The Defense Base Act
If you are hurt on the job, we are the team that can help you.Barry R. Lerner
---
---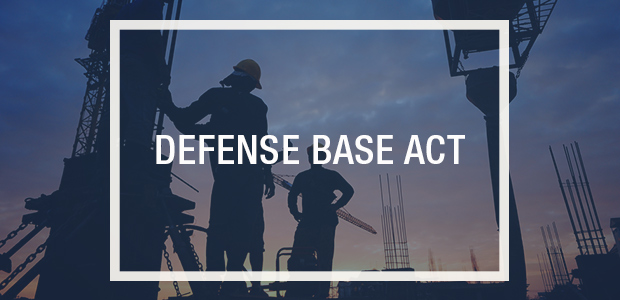 Defense Base Act
The law firm of Barnett, Lerner, Karsen, & Frankel, P.A. represents injured workers in a variety of forms. The firm's primary focus is handling injured employee claims of civilian contractors working outside the United States pursuant to a contract with the United States Government. These claims are covered under the Defense Base Act, which is an extension of the Longshore and Harbor Workers' Compensation Act. Barnett, Lerner, Karsen, & Frankel, P.A. represent more injured civilian workers covered under the DBA than any other law firm in the world, and the lawyers combined have in excess of 100 years litigation and trial experience.
At the law firm Barnett, Lerner, Karsen, & Frankel, P.A. we are one hundred percent devoted to our clients. We know that being injured overseas can be very traumatic. Between not being with family members and the injury itself, things can become very hectic. Having representation that has the experience, knowledge, and reputation to effectively and efficiently win your case is key to any injury claim from insurance firms like AIG Insurance Company. And because we have associates worldwide, this allows for Barnett, Lerner, Karsen, & Frankel, P.A. to be a powerful advocate in your case regardless of your location. Barnett, Lerner, Karsen, & Frankel, P.A. work very hard to ensure all your rights under the Defense Base Act are protected.
---
We invest a great deal of time and effort into each case we take on, litigating or appealing your case in an effort to receive the maximum compensation. The law office of Barnett, Lerner, Karsen, & Frankel, P.A. will not leave any stones unturned and will investigate all entities or parties on your behalf. We are experts on finding all possible ally-ways of compensation to cover your injury. In addition, we are not afraid to take on major insurance providers or companies.
To learn more about claiming compensation from AIG Insurance Company and other insurance companies, call Barnett, Lerner, Karsen, & Frankel, P.A. today.
---
Connector.

Dedicated To You

We are dedicated to making sure you receive the justice you deserve for your case.
Connector.

Experienced

With over 90 years of collected experience we are able to take on almost any case.
We Are Dedicated To Helping You With Your Case.
---
Our Videos
Would you like to learn more? Still need a little more information? Our videos may help.
---
Get Started
Work with a team that cares about you. We have the experience and dedication to bring the justice you deserve.